Smart Speakers and Smart Switches
Blog Map:
The Life Within A Smart Room
How A Voice Controlled Smart Home Hub Works
Best Smart Speakers In 2020 For Smart Homes
Best Smart Hub Controllers In 2020 For Smart Homes
Technology, one of the few things in this world that has a new face every day. Its impossible to have the latest technology for more than a year because a human, with a knowledge of science and a better idea would always make a more advanced version. A  better laptop every year, a smarter phone every month, a new app every day.
But if you really want to say that 'Yes, I am technologically advanced', there is something in the market that you should really try. The purpose is not to flex a newer technology but because this technological advancement would make your everyday life way easier.
The idea is to make your own 'Smart Room'. So let's see how.
The Life within a smart room
You are on your bed relaxing. You felt that the temperature is a bit low, so you ask your home assistant or smart speaker (the device which control all the smart appliances) to increase the temperature to your desired level and increase the speed of the fan, its done in seconds.
You get up from bed and the floor lights turn on all by themselves according to where you are in the house.
As you start your daily workout, your home assistant or smart speaker trains you to achieve your workout goal.
As you walk towards the kitchen to make breakfast, you order your smart coffee maker through voice or your phone to make a cup of coffee for you and within minutes, its done. You put your breakfast in the oven and it calls you when it's baked to perfect.
You tell your smart vacuum cleaner  to clean your floor and it starts doing it's job.
After you come home from work, you sit down, relax, asking you TV to turn on and play your favorite show, change the lights to your desired color and enjoy the show with your voice baked popcorn through the smart oven.
This was a glimpse of a life in a 'Home Full Of Smart Things'.  
But before you intend to make a smart home of your own, there are some things you should know.
How a voice controlled smart home hub works?
A Voice controlled  Smart Home Consists of three fundamental devices:
A Smart Speaker : which take inputs in the form of your voice commands.
A Smart Hub Controllers : the most crucial device as it controls all the smart appliances.
Smart Appliances : Smart common household appliances, Smart Temperature Control, Smart Lighting, Smart Kitchen Appliances, Smart Vacuums, Smart Health and Fitness Devices, Smart Home Security System.
Todays Blog is about the Best Smart Speakers and the Best Smart Hub Controllers of 2020. I will cover the Best smart Appliances of 2020 in the next blog.
Why Are They Important In The Smart Ecology?
If you wish to have a smart room of your dreams, buying smart appliances is just not the thing that has to be done because they all run with their own app which has to be installed in our phone.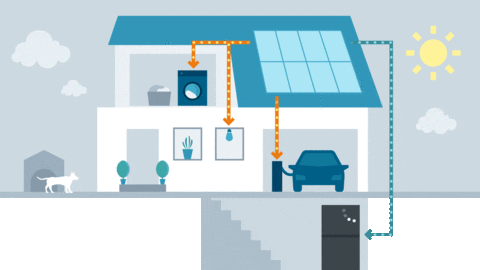 A smart hub controller is a device which allows control over all the smart appliances through WiFi . They normally have a mobile app which connects to all the smart appliance apps and when we order a specific change or job to be done, it actually does that by directing it to the appliance app installed in our phones which is already connected to the smart hub or controller app.
Normally, the Smart hub controller take commands given to it physically. But as today, there is a trend of voice controlling appliances , the smart hub controller is connected to a smart speaker via Bluetooth through their respective app in our phones which allow us to voice control them.
Amazon Echo series (Echo, Echo Plus, DOT)
The 2015 released Amazon Echo series is the first mover in the smart speaker technology, well known and is a huge success. The Amazon Echo speakers speak with the voice of Alexa, which is known for its smoothness and is an ideal friend at home. This smart speaker can connect to a wide range of smart appliances and can create an impressive voice controlled smart room.
Google home (Home, Home Mini, Nest, Nest Mini)
Probably the most professional smart hub controller of all. The Google Assistant is also the most intelligent with 98% accuracy of answers.
It is packed with a lot of cool features like fluent back and forth conversation and in my opinion, is the best home assistant of all.
Smart appliances nowadays is manufactured in such a way so that they could be a part of the Google smart eco system.
Apple Homepod
The Apple Homepod is the most recent smart speaker from Apple as compared to Amazon Alexa and Google Home. It was launched in 2017 and brought for sale to the markets in 2018.
The Apple HomePod, with a 1.3 million pieces sold, got a mixed review from the users. The Apple Homepod was praised for its sound quality and design but criticized as it was unable to connect to third party devices.
The Homepod creates a great smart ecosystem if the devices you use are most from Apple like Iphones, Apple Watches and the MacBook but no other third party smart appliance is allowed to connect to it. We could really hope that the upgraded version of the Homepod gets this allowance but as Apple is a company known for its privacy, we might not see that.    
IF YOU WANT DETAILED VIEW ON SMART SPEAKERS, YOU CAN VISIT THIS….
Smart Home Hub Controllers
Brilliant Control Switch
The tag line for Brilliant is 'Now every home can be smart' and is a company that really helps to set that up. The Brilliant Control switch is a wall switch with a screen, that helps to control light, Climate, Music, Cameras, Locks, all from a single wall switch.
The smart appliances have to be connected to a smart plug and then can easily be controlled through the wall switch and the phone app.
The reason why it should be your choice is because it's cheap and it can be paired with the most number of smart appliances available being SONOS, Honeywell, Phillips, Lifx, Amazon built in, Ecobee, Google assistant, August, WEMO, Yale.
If you want to voice control all of your smart appliances through Amazon Alexa Or Google Home, you have to connect them with a smart hub controller first and Brilliant Control switch is a good recommendation for this purpose.
Logitech Harmony Elite Remote
Unlike a smart speaker, the Logitech Harmony Elite is a Smart Remote which connects to over 27000 appliances and allows you to control them with the tip of your fingers.
The purpose of the Logitech Harmony and the Brilliant Control Switch is the same, but one is in the form of a wall switch and the other is in the form of a remote.
This remote can easily connect to Amazon Alexa and the Google Home so that you can voice control all your smart appliances.
Just like the Brilliant Switch, it also has the capability to connect to a huge number of leading smart appliances being SONOS, Apple TV, DENON, ROKU, LUTRON, SONY Phillips Hue and LIFX.
A good news for the gamers, it can also control your gaming consoles from SONY (PlayStation) and Microsoft (XBOX).
Samsung Smart Things
If you use a Samsung phone, there is a big chance you have seen this app on your 'Samsung' folder but didn't knew what was it for, let me tell you.
Samsung Smart things is also a smart home hub controller which has the ability to control your TV,lights, cameras, door locks, climate, and a number of smart kitchen appliances largely from Samsung.
With the Samsung smart things, you can control your home from anywhere in the world.
The smart appliances have to be connected to a Samsung smart things Hub (a device which works as a control switch) and the hub to your phone.
This brings all their controls to your phone and you can control them using the Samsung Smart Things app.
The appliances which are compatible with the Samsung Smart Home are Phillips Hue, SYLVANIA, Leviton, GE, Arlo Q security cameras, Ring video Doorbell, Yale security, Ecobee and Honeywell Thermostat, Samsung smart appliances.
It can be easily connected to the Amazon Alexa and the Google Home if you wish to voice control your appliances.
This was the first part about smart speakers and hub controllers and I am working on the second which is about smart appliances. I have tried to keep it as simple and reader friendly as possible.
END OF PART 1,
CLICK THE BELOW IMAGE TO VISIT PART 2
Message From Team Tuaqa
So if you liked this blog or it helped you in any way, Please let us know and
Please support our work, and if you want such blogs on any of your favorite topics, please let us know.
We post blogs on the most trending topics, so please read about your desired ones
only on tuaqa.com